Take part in our selection of services. Enjoy your stay to the fullest and let us worry about the little things!
At Stugvärden, our main goal is to give the guests a memorable experience in the Funäsdalen Mountains. We know that stress and worry comes from the small battles of everyday life. That is why we provide a generous selection of services to take that burden away and let you fully concentrate on enjoying your stay.
---
Food & Beverage shopping before arrival, in collaboration with ICA Funäsdalen.
Order online from ICA Funäsdalen. Take your time to select the best options for a comfortable and hassle free stay. Give the retrieval code to us and let us collect and arrange your food and beverage needs. We will collect and unpack everything, so that it is all there and done when you arrive. A smart investment for a smooth arrival!
Pricing:
Within Funäsdalen 250 SEK
Surrounding villages like Tänndalen, Bruksvallarna and Ramundberget 350 SEK
Observe: Place your order at least 24 hours before arrival.
---

Breakfast Bag:
An excellent option if you're only staying the night or if you're keen to get on with the next day's activities.
The Breakfast Bag contains the following:
1. Piece of light grain sourdough breakfast bun.
1. Piece of darker grain sourdough breakfast bun.
3. Pieces of portioned butter spread.
1. Package of sandwich toppings. Ham and Cheese.
1. Drinkable Yoghurt.
1. Orange Juice
1. Piece of fruit.
1. Piece of chocolate.
1. Package of Nescafé and/or Tea
Delivered to your refrigerator if staying in Funäsdalen otherwise picked up in the reception upon check-in.
Price: 95 SEK
Observe: Please order before 16:00 on the day of arrival.
Breakfast Bag: Family:
The option for a hearty breakfast before a full packed day. Suitable for 4-6 people.
Contains the following:
1 liter of juice.
1 liter of "fjällfil" traditional yoghurt alternative.
1 liter of fresh milk.
1 liter of local yoghurt.
1 package of cheese 12 slices.
1 package of ham 12 slices.
12 packages of portioned butter spread.
1 package of müsli.
6 pieces of fruit.
6 pieces of chocolate.
1 package of coffee to brew, 500 grams.
1 package of tea.
6 light grain baguettes.
6 dark grain baguettes.
Delivered to your refrigerator if staying in Funäsdalen otherwise picked up in the reception upon check-in.
Price: 479 SEK
Observe: Please order before 16:00 on the day of arrival.
---
Stugvärden´s À la carte:
Our chef prepares a selection of finished meals and cools them for your convenience. We offer a selection of locally sourced produce and highlighting dishes. When ordered you simply heat them in time for dinner.
We offer:
Homemade chantarelle soup, served with bread and butter.
Price: 99 SEK/Portion.
"Renskavsgryta" Stew of thinly sliced reindeer with locally picked chantarelles. Served with pressed potatoes and homemade jelly.
Price: 94 SEK/Portion.
Fondue of Reindeer or beef.
Complete package with table side pot.
150g of meat per person, with a rich bouillon to heat.
Served with side salad and potato gratin.
Garnished included: Stugvärden´s home made chantarelle sauce, house BBQ, garlic dressing and bearnaise.
Price: 195 SEK/person.
All dishes can be collected at the reception or delivered for a fee.
Observe: Please order two days ahead.
---
Local produce:
Stugvarden carries a selection from some of the area`s local producers and artisans.
Jillie Ren & Vilt
Award winning local Reindeer and Game products from Jillie Ren & Vilt in Ljusnedal.
Charcuterie bag
Price: ~ 320 SEK
A selection of charcuterie. Suitable for cozy evenings or as a backpack snack.
200g Dried and smoked Reindeer.
200g Aajja (Dried and lightly smoked sausages of reindeer.)
115g Elk sausages "Beer" style.
Barbeque 
Price: ~ 480 SEK.
The perfect taste selection for the open fire.
700g Reindeer cutlets.
400g Sausage of Reindeer.
520g Reindeer burger patties.
Family Bag
Price: ~ 490 SEK
Plenty of meat for a family gathering. Plenty of options for cooking, try a classic "Renskavsgryta" stew or maybe a Reindeer wook or tacos serving?
1 kilo of Renskav (Thinly sliced reindeer)
1 kilo of reindeer mince.
800g of reindeer "Raka" sausages.
Weekend Bag
Price: ~520 SEK
Tender meats and luxurious sandwich spreads.
550g Of boneless silver side outer filet of Reindeer.
400g Of hot smoked shoulder of Reindeer
160g Sausage of Elk, "Beer" style.
The All Week Bag
Price: ~660 SEK
Our most generous option, something for all!
500g Renskav (Thinly sliced Reindeer.)
400g Reindeer Sausages.
520g Reindeer Burgers.
400g Roast Beef of Reindeer.
100g Aajja (dried and lightly smoked reindeer sausage.)
115g Elk Sausage "Beer" style.
350g Reindeer Sausage, smoked.
---
Book your Take Away dinner in collaboration with Erik´s Kitchen & Bar Restaurant in Funäsdalen:
Food is picked up premade and chilled. Comes with simple heating instructions.
Three Course menu with two options for each dish.
Observe: Please order at 16:00 the day before.
Contact us for this week´s menu.
Price: ~425 SEK
---
Private chef and serving staff:
For a special and memorable experience, hire Stugvärden´s private chef and waiting staff. We serve a menu according to your preferences with local produce and flavors in focus. Choose to completely tailor your menu or pick from one of our suggestions.
(Preparation, cooking, serving and cleanup included.)
This option is also available to enjoy in a tradition "Störös" environment. Traditionally a small cabin with central fireplace. For the authentic experience.
Travel cost added.
Price: 450 SEK/ hour. Costs for ingredients added.
Contact us for menu suggestions etc..
---
Laundry and cleaning services:
Cleaning upon departure
Let us clean up after your stay and save yourself both time and energy. Enjoy your breakfast in peace and quiet, throw out the bin and start the dishwasher. Let us do the rest!
Safe, simple and stress free.
Observe: Check out 09:30 at the latest.
 
| | |
| --- | --- |
| Size of accommodation | Price in SEK |
| 30-45 m2 | 990:- |
| 46-55 m2 | 1190:- |
| 56-65 m2 | 1390:- |
| 66-75 m2 | 1590:- |
| 76-85 m2 | 1790:- |
| 86-95 m2 | 1990:- |
| 96-105 m2 | 2190:- |
| 106-115 m2 | 2340:- |
| 116-125 m2 | 2490:- |
| 126-135 m2 | 2640:- |
| 136-145 m2 | 2810:- |
| 146-155 m2 | 3190:- |
| 156-165 m2 | 3290:- |
| 166-185 m2 | 3390:- |
| 186-205 m2 | 3540:- |
| 206-225 m2 | 3690:- |
| 226-245 m2 | 3840:- |
| 246-265 m2 | 3990:- |
Observe: Processing fee of 45 SEK not included in pricing model.
Bed linens for rent:
Rent our soft and comfortable bed linens and save space in your packing. Add on bed making before arrival for that hotel luxury feeling.
A package contains a complete set of bed linens as well as a small and large towel.
 
| | |
| --- | --- |
| Number of sets: | Price per Set in SEK |
| 1-2 | 175:- |
| 3-4 | 145:- |
| 5-8 | 125:- |
| 9+ | 95:- |
| Price with bed making per set. |   |
| 250:- |   |
We wash and press our linens locally and with cold water pressing. An effort in line with our environmental policy.
Laundry Services:
For help with laundry during your stay.
As an example: leave us your laundry in the morning before hitting the slopes, and return for clean and dry fabrics after a day of activities.
Our machines take on up to 16kg per load.
| | |
| --- | --- |
| Amount of laundry in kilos: | Price per machine in SEK: |
| 0-8kg | 250:- |
| 8-16kg | 350:- |
Laundry for Departure: You can also leave us the week´s laundry before departure. We will wash, dry and fold. You can then conveniently just unpack upon return to home or when reaching your next destination.
Do you need help with your laundry but can´t see a fitting option?
Contact us at 0684-21245 or fill at a form.
---
Activities & Adventures: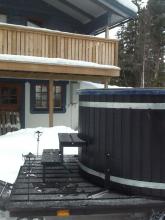 Open air wood fired hot tub:
For an open air spa experience after a long day. Rent our mobile hot tub. Wood fired and with room for up to 6 adults.
We deliver the bath to you with water to heat. Heating time: 4-5 Hours. Firewood can be ordered from Stugvärden.
Price: 2500 SEK with water.
Other Services:
Locally sourced birch firewood
Price: 95 SEK/Bag
Observe: Please order a week before arrival for delivery to your accommodation.
---